16 of 20 1st District candidates face off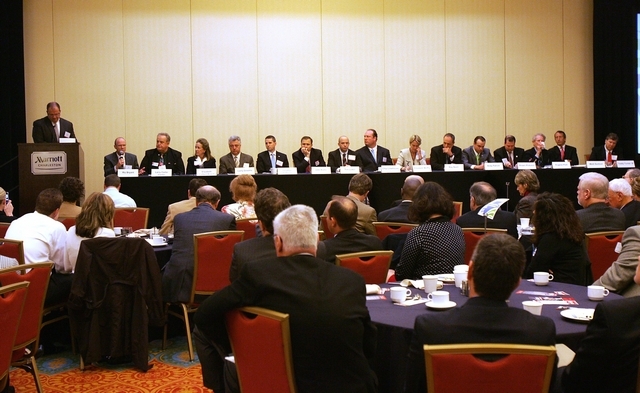 Reprinted from The Post and Courier
By Robert Behre
The election to fill U.S. Sen. Tim Scott's former House seat stands out because of its expansive field and compact time frame.

Both were on display Tuesday morning, as 16 of 20 candidates — from the Republican, Democratic and Green parties — sat elbow to elbow on a stage inside a Charleston hotel.
"As you can see, there's a lot of us up here, so you have a lot of work to do," Republican hopeful Shawn Pinkston, a Daniel Island lawyer, told the crowd.
The candidates were timed to the second as they tried to explain their positions on complex issues, such as harbor deepening, infrastructure, immigration and possible military cuts.
Still, several of about 150 Charleston Metro Chamber of Commerce members attending said they felt more exhilaration than frustration and were glad they have so many choices in the 1st Congressional District.
"That's one of the beauties of this country," Jeff Winkler of Intertech said of the crowded field. "Everybody has the opportunity to have their voice heard. I would never want to see that change."
While voters might have a lot of choices among candidates, what they don't have is much time to make up their minds.
While most congressional races play out over more than a year, this race is occurring in less than half that time: The primaries are March 19, and the special election is May 7.
Carol Molony of Park Sterling Bank was talking with a friend afterward about whether the hourlong forum left them more decided or confused. "I think we chose the latter," she said.
Still, voters will have several more chances to see partisan forums and debates in the coming weeks, and the Republican field, which numbers 16, is expected to hold a televised debate March 14.
On Tuesday, the candidates generally agreed on the need to deepen Charleston's harbor to handle larger ships, to continue to invest in roads and other Lowcountry infrastructure and to protect South Carolina's military bases from cuts.
The one issue where they diverged the most was immigration, particularly whether they support a reform package recently put forth by U.S. Sen. Lindsey Graham, R-S.C., and others.
Former Republican Gov. Mark Sanford said he didn't support the plan, but his Republican opponent, former state Sen. John Kuhn, called Graham's proposal "surprisingly good and surprisingly helpful for farm workers."
Democrat Elizabeth Colbert-Busch did not address illegal immigrants, but reforming the nation's immigration rules to keep legal workers who can find work. "If you're in this country legally, we need to find a way to keep you here," she said. "We need the best and the brightest."
And candidates tried a host of other tactics to separate themselves from the pack.
Green Party candidate Eugene Platt read a poem instead of giving a standard introduction.
About half touted what they have done in office, while the other half emphasized that they would be a fresh face in Washington.
Liz DeLoach of Social Strategies was paying close attention to their backgrounds. "Their positions are largely the same," she said. "The decision is: Do we want to send a newcomer to fight politics as usual or a veteran who knows the system and vows to change the system?"
Those candidates who didn't appear Tuesday include Sullivan's Island businessman Keith Blandford, former Charleston County Councilman Curtis Bostic, state Rep. Peter McCoy and Democratic candidate Ben Frasier. Martin Skelly attended, though he announced Monday he was ending his Democratic bid and supporting Colbert-Busch.
Reach Robert Behre at 937-5771.